So, today I went to pick up the mail and was startled by the magazine I was holding, Jewish Book World, which had my face staring right back at me. And it's big. Unphotoshoped, fucked-up tooth and frizzy hair big. Inside, there's a lovely review of my book, a write-up about the award and my essay, "Keeping Promises."
***
More news. I wrote something in HEBREW!!! I know. It's been so long that I was saddened to discover that I've now reversed my sense of insecurity to my mother tongue! It wasn't easy to write this piece. My words felt stiff, and didn't flow as they used to. I did it anyway, because an old friend, Dr. Sharon Geva, who used to work with me at Ma'ariv Lanoar (the youth magazine I'd written for as a teenager) challenged me to pen something for her blog. And because I wanted to see if I could. The topic was something I felt strongly about: a response post (more of a protest post, really) to a must-read list Hebrew books that was published in Haaretz. It included ten books written by men, nine of them Ashkenazi. You can read the post (published on Dr. Geva's blog) here.
***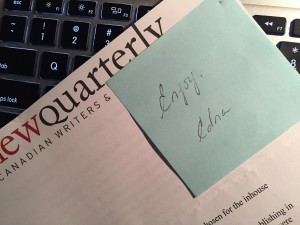 While I was in Israel I got a surprise letter in the mail, telling me I had won The New Quarterly's In-House Edna Staebler award! The story of how the award came to be is pretty special. Here it is, from The New Quarterly's site:
In 2006, the year of her death at the age of 100, the writer and philanthropist Edna Staebler made a $25,000 gift to The New Quarterly. It was one of many she made that year, to social service agencies and programs for writers. She made many smaller gifts as well, to students and individual writers whom she admired. These cheques, each for a thousand dollars, arrived out-of-the-blue with a little note attached that read, "Enjoy! Edna."
In that spirit, we have used the interest from her gift to TNQ to establish the $1,000 Edna Award to go each year to the writer of a piece of non-fiction (interview, literary essay, memoir, essay on writing) published in the magazine in the previous calendar year. The Edna Staebler writer-in-residence at the Kitchener Public Library would judge, when possible, and the winner would not know he or she was in contention until the cheque arrived in the mail with the same little note attached—"Enjoy! Edna"—though alas not in her own hand.
Amazing, isn't it?
This year, the judge was the illustrious poet and critic Sonnet L'Abbé. She wrote this extremely generous paragraph about my essay, "Learning to Stand Still."
"I chose Ayelet Tsabari's 'Learning to Stand Still' as this year's In-House Edna Prize winner for the remarkable way the essay recollects the scattered energies of an identity literally blown apart by war. Tsabari gathers up the details of her own disassembly and reassembles them, as she once did the parts of her machine gun, into one of the very narratives that have served as her shore against internal chaos. Tsabari's memoir is a bracing meditation on the easy sensationalism war stories can provide, and on the storyteller's temptation to drag oneself through self-created conflicts just to have something to recount. Not only did I meet Tsabari as a vibrant, fierce, intelligent individual, but she disassembled any idea of writing as a safe, bookish, disembodied activity and gave it back to me, reassembled, as an engaged, badass, full-on way to live."