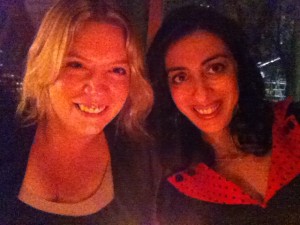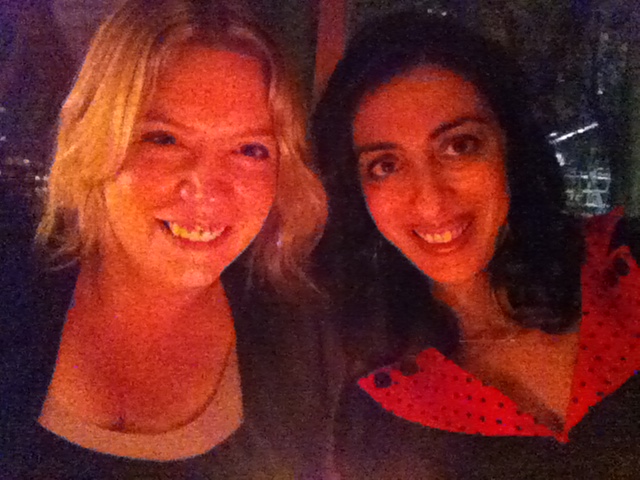 Theodora Armstrong, author of the wonderful short story collection Clear Skies, No Wind, 100% Visibility (which was nominated for the BC Book Prize) asked me to participate in a blog tour, and answer some questions about my writing and process. I've been a rotten blogger recently so I figured it would be a chance to post something new. (I have, however, been writing new material, which I am very excited about!)
I met Theo at the Vancouver's Writers Fest and we bonded over being short story writers (our collections were released within days of each other's), photographers, and mothers. You can read Theo's contribution on Janie Chang's blog (who kindly hosted a blogless Theo) and you should also visit her website, and read her book!  
What am I working on?
I'm working on a memoir and a novel, because I like to mix it up. Right now, I'm putting more energy toward the memoir because it is closer to being finished, which is a good thing considering I started it in 2007 (though I haven't been working on it steadily). An earlier version of the memoir was shortlisted for the 1st Book Competition in 2010 (back then it was called You and What Army.)  Despite how disappointed I was at the time, I'm glad it didn't win. It was not ready. The memoir deals with similar themes to my short story collection, The Best Place on Earth: transience, home, identity and belonging. It is a coming-of-age story that follows my journey from growing up in a suburb of Tel Aviv to a large Yemeni family, through my turbulent service in the Israeli army, and my years of backpacking and travelling. If you'd like a sneak peek, you can read "Yemeni Soup and Other Recipes" here (it won a National Magazine Award and a Western Magazine Award last year!). Also, two pieces from the memoir are forthcoming with The New Quarterly's summer issue.
I'm also working on a novel about the Yemeni community in Israel. It's still pretty raw and I find the process intimidating and difficult. Writing a novel requires a lack of control I find terrifying. It's just so big and uncontainable.  I used to think that I write shorts partly because I have commitment issues; it mirrored other aspects of my life. I'm a different person now and I've learned to commit to things and people and places, but I still find writing a novel daunting. Theodora spoke eloquently about how difficult she finds the transition from the short form to the long form in her blog post.  I try to just write, put words on paper, and remember this wonderful quote by E.L. Doctorow: 'Writing a novel is like driving a car at night. You can see only as far as your headlights, but you can make the whole trip that way.'
Also, I still write short fiction here and there because I love short fiction and I don't plan to ever stop.
How does my work differ from other work in its genre?
I write stories that are set mostly in Israel, against a backdrop of conflict and army service. I write about Mizrahi characters, particularly of Yemeni Jewish heritage, which are rarely depicted in literature. Then there's the fact that I write in my second language, while still being largely influenced and informed by my first language. I feel that I am a Canadian writer, because this is where I grew as a writer and where I write, but my writing doesn't fit the Canadian lit stereotype (whatever that means). I think my cultural heritage and where I'm from is evident in more than my themes and content. It's in my style, even my word choice. I talk more about that in this essay I wrote for Event's Notes on Writing issue.
Why do I write what I do?
Because when I tried to write other things that were safer, less scary, less likely to get me in trouble, I failed. Because I grew up not finding characters like me and stories like my family's in the books I read. Because you write the book you want to read (Toni Morrison said it, not me). Because I don't know that I have a choice.
How does my writing process work?
It's a bit of a mystery, really. I work on a computer. Except for when I am really stuck with something (a sentence, an image, a paragraph) and then I move it to paper and try to loosen it up a bit. I've been known to walk around in my neighbourhood with a notebook and write while walking when I really need to loosen things up. I feel like movement helps. When I am in the generative stage I try to just write, not think or edit as I go along, and leave all that for the editing process.  It's not always easy—the critic/editor in me wants to weigh in; she can be a bit of a jerk—but I resist the urge.
I spent 15 years working physical jobs like waitressing and cleaning houses, so despite growing up a lazy kid, I've taught myself to be a hard worker. I apply these ethics to writing. I try to write every day, but sometimes I don't, because I have a baby and there are other things to get done. Having a baby changed my writing practice drastically (and everything else in my life!), which was to be expected. Before I wrote almost every morning, then took a break for lunch, exercise, errands, and in the afternoons, if I was still in the zone, I'd go on writing, or if not, I'd start editing.  Toward the end of a manuscript I'd be at it all day, locked in my room, eating in front of the computer, stopping just a little past the point of becoming delirious (which I don't recommend).
When Sean went back to work after his paternity leave and I couldn't write I was losing my shit. Turns out I need to write to be happy. So I got help a couple of times a week. I also rented a space in a shared-workspace and I go there and write for a few hours. I love it; there are no distractions and since it costs me money to have those quiet hours I don't waste time on facebook.  I write with a new urgency I hadn't felt before.
Next week, two other wonderful writers will be posting their answers on the next leg of the tour:
I first met the lovely Angie Abdou in the Real Vancouver Writers Reading Series—we were the two out-of-towners. Then, we hung out in the Victoria Writers Festival. Angie's new book, Between, is coming out this fall and I cannot wait to read it!
I met Devyani Saltzman just recently in a Toronto literary event, and have since got together to talk shop over coffee. But I have been familiar with her work for a long time. I loved her memoir, Shooting Water, and have been teaching her creative nonfiction piece, "Amma," in my CNF classes. Devyani is currently working on a novel.
Don't forget to check out some of the other authors who contributed to this blog tour.
Kathy Para* Theodora Armstrong * Eufemia Fanetti * Kathy Page * Janie Chang * Lorna Suzuki * Barbara Lambert * Matilda Magtree * Alice Zorn * Anita Lahey * Pearl Pirie * Julie Paul *Sarah Mian * Steve McOrmond * Susan Gillis * Jason Heroux