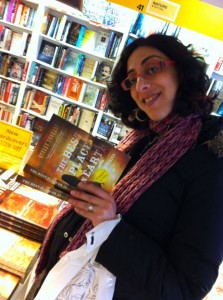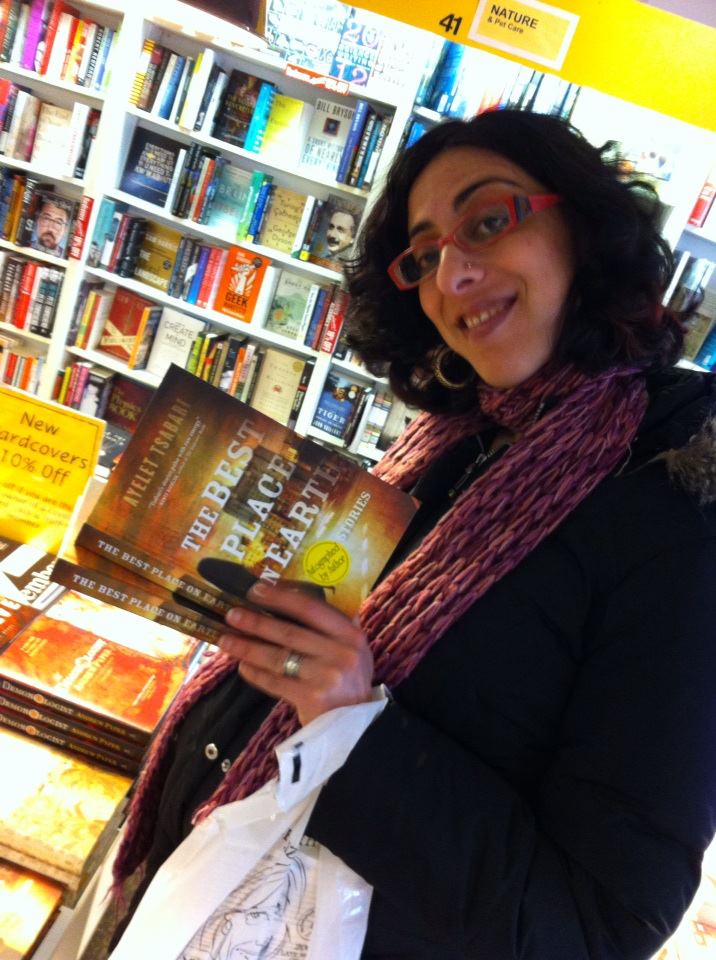 My book and I had quite a week last week. Last Tuesday, March 19th, was my book birthday, the official publishing date I've been waiting over a year for. I went swimming that morning, a form of meditation, a way to calm down the swimming in my head. It helped. Then Sean and I visited two Book City stores and checked out my books on the display table, got to sign them and pose with them and smell them (I keep sniffing them; it's becoming a problem). Then we went to Chapters, where Sean rearranged a table to give my book a more prominent spot while I pretended to be engrossed in the biography section.
The following day was my launch. In the afternoon, while Sean, my brother (who flew in all the way from Montreal!) and I were putting the final touches on the food we prepared for the evening (it was a beautiful spread, if I may say so myself!) we listened to CBC Montreal Homerun, where their book critic said really nice things about The Best Place on Earth.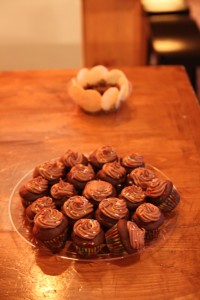 As promised by friends who've been through this, the launch was a bit of a blur. An amazing, exciting, adrenalin-fuelled blur. One moment I was arranging my signature Nutella mini-cupcakes on plates and the next – the place was packed with beautiful, lovely people, and I was signing books and giving hugs, surprised on more than one occasion by unexpected visitors from other towns. Eufemia Fantetti  hosted, gracious and charming as always; my editor, Jane Warren, said lovely things about the book; I got to read a short excerpt from 'Casualties,' and then listen to Sarah Macdougall play my favourite songs. It was a perfect evening (and more photos will follow soon!) The only thing I wished for when it ended was more time to speak to the many people who came to support and celebrate with me.
The next morning, my fabulous, hard working publicist Sonya came to take me to CBC, where I was being interviewed for The Next Chapter with Shelagh Rogers. It was a bit surreal. CBC! The Next Chapter! Me! I was extremely nervous for hours beforehand, convinced that my ESL anxiety was going to make me sound like an inarticulate imbecile. But Sonya and the producer seemed to think that I was semi-coherent. Phew.
After teaching my final creative writing class at U of T, we got out of town for a much needed vacation in Picton, where we spent a weekend sitting in a huge soaker tub, eating yummy food and getting massages.
That was my week. There were some moments of anxiety and stress too, which I had been prepared for after speaking to other authors. The book is out there, in book stores and homes and libraries, being read by all kinds of people, some of whom say thoughtful things about it in newspapers and online (check out the media section for reviews!) I'm trying to not overuse the word surreal here.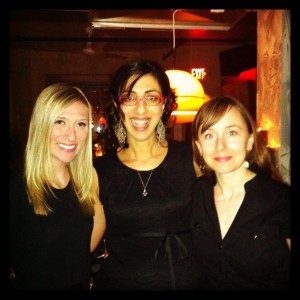 On Thursday, March 28th, I'll be reading at Speakeasy Reading Series, at Magpie Tavern, 831 Dundas St. West, along with Liz Howard, Beverley Cooper, and Ann-Marie MacDonald. Such great company! I'll have some books to sell and more time to talk. Come and hang out!
Photos by Danielle Nakouz