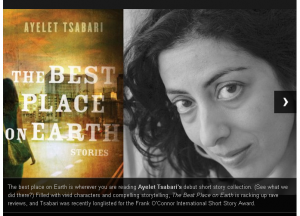 A very exciting thing happened the other day, just in time for Canada Day. CBC Books included me on their list of Ten Canadians Writers to Watch. I've been following their annual list over the last two years so I was amazed and a little stunned to be on it. And excited. Did I mention how excited I am?

The list includes other great writers I would like to watch, like Jowita Bydlowska (my ESl buddy and author of the buzzing Drunk Mom), Saleema Nawaz, Rebecca Silver Slayter, John Vigna, (whose books, equally as buzzing, I can't wait to read!), Spencer Gordon (whom I met at the Literary Picnic and instantly liked) and others. It's a great honour. And it does make me feel somehow more legit as a Canadian, because despite the fifteen years I've been living here, sometimes I still feel like a foreigner.

Then there were other mentions on some other great lists.

49th Shelf included The Best Place on Earth on their Canada Day's List, "Great Works by Canadian Immigrant Writers."  I loved the idea for this list and wow, am I ever humbled by the company! It includes one of my favourite Canadian writers, Rohinton Mistry, as well as Rawi Hage (whose book, De Niro Game, winner of the IMPAC Dublin Award, I absolutely loved) and the amazing Dionne Brand.

Book Club in a Box included The Best Place on Earth on their 2013 Summer Must-Read List, alongside amazing titles like Life After Life (Kate Atkinson), Siege 13 (Tamas Dobozy), The Great Gatsby (F. Scott Fitzgerald)!! They also wrote this in their blurb:  "The stories are emotional, personal, wise, and empathetic. They have a lusty sexual outlook and are quietly honest and political."

Finally, The Writers' Trust asked some writers for their reading recommendations for the summer of 2013, and the lovely Rebecca Silver Slayter (author of In the Land of Birdfishes ) mentioned The Best Place on Earth as one of the books she is most looking forward to reading this summer.

****

Being included on these lists, made me think even more fondly of my first list (one never forgets their first!) It was almost exactly a year ago when Amanda Leduc— novelist and literary list visionary— decided to create her own Up-and-Comers list, a response to all those other, more official lists. Amanda's list was mostly comprised of authors who hadn't published a book yet, and included some very promising writers, winners of contests and awards like Kris Bertin, Will Johnson, Eliza Robertson, Erin Frances Fisher, Trevor Corkum, and Kody Klippenstein. I was flattered that she included me, honoured to be in such great company. Then I thought how awesome it was of Amanda to create a list celebrating her peers, and realized that she wasn't on the list, despite being as promising and watchable and up-and-coming as the rest of them. So I did he only thing I could do: created a satellite addition to Amanda's list on my website, where I sang Amanda's praises. That was easy to do, because as I mentioned before, she's kind of awesome.

Now, a year later, Amanda wrote a follow-up post listing the up-and-comers' accomplishments. So, in keeping with tradition, here's an update on the one Up-and-Coming-Writer-to-Watch behind the Up-and-Comers list.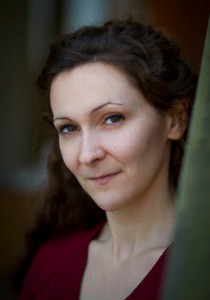 Amanda Leduc
Amanda's novel Miracles of Ordinary Men was published by ECW in May and immediately received much-deserved praise (It's great, by the way, beautifully written and ambitious. It was my second book on the little known hashtag #breastfeedingreads—can it be a thing?—and I loved it) The National Post called it "a beautiful read," The Globe and Mail said it was "darkly ambitious yet accessible," And Chatelaine tagged it on their six books to read in June.  Amanda, as community minded as ever, is also the wild mind behind Bare it for Books, a campaign that began as tweet and materialized into a calendar featuring Canadian authors in the buff, with the proceeds going to Pen Canada. To promote the campaign, Amanda posed topless (well, almost) in the National Post along with her partner in crime, Allegra Young. That was also ( here's that word again) awesome.
Amanda continues to publish essays and short fiction, including a lovely essay in Elle, and a story in Little Fiction (which declared May Amanda Leduc's month!) Come fall, she is going to appear at The International Festival of Authors, so you should go see her, and buy her book, and say hi. You'll be glad you did.
Amanda is already working on her next novel (because she's like that: ridiculously, annoyingly prolific) and I can't wait to read it! And the one after that. And… well, you get the idea. She's going to be around for a while, writing books and being, well, awesome.