This has been the nicest, warmest fall I've yet to experienced in Ontario (and perhaps in my entire time Canada!) The weather has been warm and beautiful and though climate change is probably to blame I guiltily love every minute of it.  I actually enjoy fall in Toronto, even if it's a gateway season to the horror that is winter (yes, I said horror and I stand behind it). It's been five years since I moved here, and still, every year I am in awe of the changing fall colours, the vibrancy of the yellows and reds. They make the city look so festive. Fall is also the season for writer's festivals and reading series and literary events. There is so much to see and do in the city, and I get to wear jackets and scarves and boots and cute woolly hats while I sashay around town from one event to the other.

Speaking of writerly events: I have a couple readings coming up soon.

I am reading and speaking next week (October 30th) in Waterloo, as a part of the reading series at St. Jerome's University. I met Tristanne Connolly, who runs the series (and is also the poetry editor for The New Quarterly) at the Wild Writers Festival last fall. She moderated the panel I was on, "Writers at Risk," and did a fabulous job of it. I'm thrilled to be invited to Waterloo for the evening. The event begins at 4:30 on the St. Jerome's campus (in STJ 3027).

I am also reading as part of the Platform Reading Series on November 12th. The Platform is a new series featuring an evening of poetry and prose with emerging writers from the University of Toronto School of Continuing Studies Creative Writing Program. I will be reading with five of my Creative Non-Fiction II students so it's particularly exciting. The reading is at 7:30 at the The Black Swan Tavern, 154 Danforth Avenue, Toronto.

***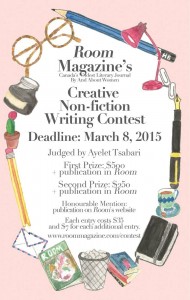 Speaking of The New Quarterly. My stories, "Soldiers," and "Learning to Stand Still," which were published in their War issue (131), received a nod from the kind folks at Prism on their "favourite writing from literary magazines" post. Thank you, Prism!
I reviewed Chez L'arabe, a fabulous book of short stories by Montreal writer Mireille Silcoff for Shtetl Montreal. It is my first published review. I have mentioned my irrational fear of writing reviews before, so I was glad for the challenge. Read the review here (and read the book too! It's great and features a hilarious Israeli mother character… Of course I'd like it.)
CWILA (Canadian Women in Literary Arts) has asked me to speak of why I support CWILA (and why you should too!) I answered here, amongst writers like Lynn Coady, Sachiko Murakami and others. If you haven't joined yet, please consider supporting this important organization.
Finally: I am judging Room magazine's Creative Non-Fiction contest this year. I am delighted to be reading some fine new essays! Saleema Nawaz who judged their fiction contest last year wrote a blog post explaining how the process works, so here is a link in case you are curious. And click here to submit to the contest.
***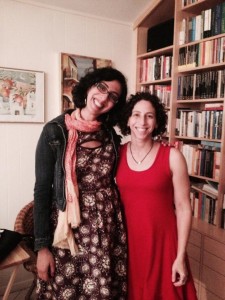 I had a wonderful whirlwind two-day trip to a torrential Houston last month. I had been to Houston once, driven through it nearly twenty years ago (impossible!) on a young, broken-hearted coast-to-coast trip with my friends after the army. After staying in cities like New York, Los Angeles, and San Diego, and visiting places like Bryce Canyon and Yosemite and The Grand Canyon I remember finding Houston dull and uninspiring. This time around the city left a much more positive impact on me. Mostly thanks to the lovely people I met, their hospitality and their warmth.
Melissa Weininger, a professor of Modern Hebrew and Jewish Studies from Rice University, kindly invited me to speak at Rice and arranged the visit. Melissa (who speaks fluent Hebrew, and apparently Yiddish!) contacted me after she had written a fascinating essay—to be published soon­—about my book and Shani Boinajiu's book, titled "Hebrew in English." Rice University and the Israeli consulate in Houston helped finance the trip.
I started my visit at the University of Houston, where I spoke to students from History of the Modern Middle East course, taught by the illustrious Dina Alsowayel, whom I promptly fell in love with. Then I gave a lunch lecture at Rice, titled "Language, Longing and Belonging," and finally met Melissa, whom I've been emailing for so long now that it felt as though we were already friends. In person, she was lovely, warm, and generous. That night, I was invited to a casual chat with the Hebrew speakers association's book club, hosted by Miriam Pacht in her beautiful home. It was great to talk Hebrew books and Israeli authors over wine and snacks with a group of avid readers.