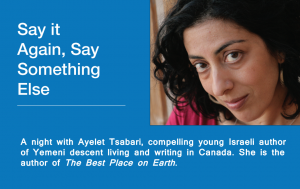 Exciting news! I'm going on another mini-tour on the first week of February. I will be reading from The Best Place on Earth and speaking about my experience as an Israeli of Yemeni descent and about writing Mizrahi stories. There will also be some time for a Q & A and books for sale. Oh, and did I mention that it will take place in licensed venues? So you can have a glass of wine and a snack with it?

The event is called "Say it Again, Say Something else," after one of the stories in the book. New Israel Fund of Canada, (a non-profit organization committed to equality of social and political rights in Israel, without regard to religion, race, gender or national identity), is putting up the events and I'm honoured to be working with them. I also love that in their email announcement of the event they quoted this from my recent post about Why I Choose to Only Read Writers of Colour in 2014, "In writing The Best Place on Earth, I was trying to rectify the experience I had as a child growing up in Israel and reading books that didn't include characters like me. There was never a Yemeni girl in the books I read and loved and so I ended up feeling invisible…"

The first event is in Toronto on Sunday, February 2, 7:30pm at the Gladstone hotel (1214 Queen Street West.) It will feature a conversation with The Globe and Mail arts editor Gabe Gonda.

I'll be in Montreal on Wednesday, February 5, 7:30 PM, at La Sala Rossa, 4848 boul. Saint-Laurent. Tamara Kramer, Creator and Host of the radio show Shtetl on the Shortwave & Editor of Shtetl Magazine, will be interviewing me.

And finally, I'm in Ottawa on Thursday, February 6, 7:30PM, at the Raw Sugar Cafe, 692 Somerset St W.

The events are free but you have to reserve your spot here.

***********

In other news, there are still a couple spots left in my writing workshops in Israel—"The Lyric Essay, The Beautiful Wild Child of CNF", on January 20 in Jerusalem, and "Wish You Were Here: Writing about Place" on January 23rd in Moshav Beit Zayit. They are running out fast! Check here for more information and registration.

************

2014 started with a new (true) story published in Little Fiction's new sibling, Big Truths! I'm so pleased to be a part of this great little literary magazine. And this particular story is close to my heart… Read Running on Blueberries here.

***********

Oh, and I'm already on book #4 on my reading pledge this year (which I speak about in this post, Why I Choose to Only Read Writers of Colour in 2014). You can check the books I'm reading and follow my progress on Goodreads!