I'm thrilled to be heading to Vancouver and Victoria for a mini-book tour in a few days. Vancouver is one of my homes (I've written about it here). I lived there for eleven years and I still miss it. When I got my book deal I promised my friends in the city that I'd fly there to launch my book after I do my Toronto Launch. But then I ended up having a baby instead. The Best Place on Earth is now six months old, a little old for a launch, but I still wanted to celebrate it with my BC people. So here are some of the events I will be participating in. I would be tickled if you came to say hello.

Our first stop (Sean and baby and me) is Victoria, Sean's hometown. I will be taking part in two events in the Victoria Writers Festival, while staying at the snazzy Regent Hotel (thank you, VWF!) and hopefully getting to meet some of my Victoria Twitter friends! (Erin Francis Fisher will be there, and maybe Will Johnson too? A girl can hope.)

My first event is Love Familiar, readings and panel discussion with Dede Crane, Matt Rader, and Shaena Lambert (what great company!) It is going to take place on Saturday, October 19, at 2:45pm, at Camosun College, Lansdowne Campus. Sean's entire family is going to be in attendance, and yes, Sean will be wearing the baby (seems appropriate for an event about family).

Then, that evening, I'm going to read as a part of their Saturday Night event, Rapt. The lineup is ridiculous.  Angie Abdou, Annabel Lyon, Saleema Nawaz, Sara Peters and Jay Ruzesky. This event will be at 7:30pm, also at Camosun College, Lansdowne Campus.

I'm also looking forward to the Friday night event, Carousal. Wayde Compton, my mentor from The Writer's Studio, will be reading with Marjorie Celona, Anne Fleming, Catherine Greenwood, MAC Farrant and Shaena Lambert.

Then we are off to Vancouver! I'm especially excited to be participating in Vancouver International Writers' Festival. It's been a dream of mine since the first time I attended, in 2007. I even got to read at the launch of emerge, The Writer's Studio anthology, which launches at the festival every year. After I moved to Toronto, every fall I wished that I could afford to fly back especially for the festival. (I talk a little bit about my love for the festival on their blog).

My first event, Faces in the Conflict, is on Friday, October 25, 1:00pm – 2:30pm at the Waterfront Theatre in Granville Island. It is a panel discussion and reading with Nadeem Aslam, Michael Winter, and D.W. Wilson. Okay, yeah. I'm a little intimidated.

The second event is on Saturday, October 26, 5:00pm – 6:30pm, also in Waterfront Theatre, Granville Island. Out of Place, panel discussion and reading with Xiaolu Guo (one of Granta's Best of Young British Novelists) and Silvia Moreno-Garcia.

I'm starting to get a little nervous!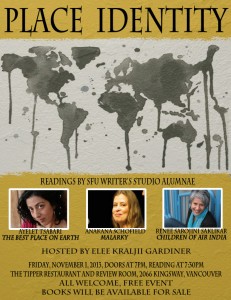 Finally, I wanted to celebrate with my Writer's Studio crowd. I did promise a launch, after all. So I arranged for a special reading, Place Identity, with two Writers' Studio alumnae: the illustrious Anakana Schofield and the fabulous Renée Sarojini Saklikar. It's going to take place at The Tipper Restaurant & Review Room, 2066 Kingsway, Vancouver, BC, on Friday, November 1. The lovely Elee Kraljii Gardiner will be hosting, and CWILA (Canadian Women in the Literary Arts) will be in attendance and accepting donations. Books will be available for sale. The event is free and everyone is welcome. Judging by the Facebook Event, it's going to have a pretty good turnout. And thanks to my awesome friend Jai Kristjan who created this beautiful flyer.
The next morning, November 2, 9:00am-12:00pm, I will be teaching a workshop about place, Wish You Were Here: Writing about Place Workshop at the beautiful Trout Lake Community Centre. There are still a few spaces available.  To Register go here.