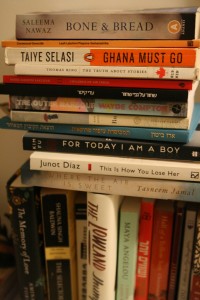 In the beginning of 2014 I made a public pledge to read only writers of colour for a year. My decision was inspired by Lilit Marcus's essay, "Why I Only Read Books by Women in 2013,"  and by a lifetime of reading mostly works by white authors and not finding myself in the books that I read. In my original post I said many things about my decision but I think the last paragraph sums it pretty well.

"I'm choosing to spend the year reading only books by writers of colour, because I want to read more deeply. Because as a writer of colour who wants to be read I realize I should do my part, and become a reader, an audience.Because I'm interested in the world around me, and the stories these writers have to tell. … Because when I was suffering from a major writing block, trying and failing to fit my writing into what I thought the Canadian literature mainstream expected of me, my mentor Camilla Gibb suggested that I read books by writers from other cultures, and I discovered Edwidge Danticat, and Chimamanda Adichie Ngozi, and Daniyal Mueenuddin, and Junot Diaz, and Yiyun Li, and I was instantly cured. Because reading their stories made me feel like there was room for my writing in this world."

The post garnered some attention and mixed responses. Some people wrote to tell me they were inspired to make similar pledges, like writer Jeffery Ricker who wrote this on his blog. Chelsea Rooney (author of the critically acclaimed Pedal) spoke about my initiative on her January 26th episode of The Storytelling Show (which you can listen to here. My segment begins around halfway through although the first half, in which she interviews artist and writer Cara Cole, is also fascinating!) And CWILA interviewed me about it on their website.

Others were unimpressed, offended even. I was told (though not to my face) that it was stupid, even racist. I also heard from Twitter friends that my reading project led to some heated dinner party conversations. For that I am glad.

In March, my teacher, Russell Smith, wrote an interesting column for The Globe and Mail about the perils of writing fiction that is "good for you," fiction depicting characters who are moral or likeable or nice, telling stories that are hopeful and empowering. He made some interesting points, some of which I agreed with. Then, at the end of the column, he tacked on this thought:

"At the beginning of this year, I noticed a social-media trend among writerly colleagues. Everyone was announcing some kind of self-improvement plan in their reading. They were going to read only women writers this year, or writers of colour. Whether this was to correct their own ideological deficiencies or to improve the world at large was not clear. It gives me to understand that their reading is not for pleasure but for moral improvement. I think, then, that they should give up reading altogether. If it's good, it will be bad for them."

Smith's final comment made me think about why we read. Back when I was a smoker I used to pray for some magical new research to declare that smoking was actually good for us because, how could something that feels so good be so be bad? Obviously, that never happened. Lucky for me, reading is the perfect drug: it is both pleasurable and good for me. Reading makes me happy; it provides entertainment, escape and refuge. It also (I like to believe) makes me smarter. It challenges me. It teaches me to be a better writer. It inspires me. It makes me feel deeply. It enlarges my view of the world, exposes me to other voices, other experiences, other cultures. And yes, I believe that reading can make the world a better place, that reading can make us more compassionate, can promote empathy and understanding (and research proves this to be true), regardless to how moral (or not) the characters depicted in these books are. I think of something novelist Catherine Bush, a teacher and a friend, posted on Facebook once; she was pondering the "altruistic" act of reading fiction – "the depth of entry, the sustained attention, the giving over." I see that as a bonus

My year of reading only writers of colour made me aware of how much more visible white authors are in the media, and in the material taught in schools. This is true in both countries I call home. I saw it in the all-white panels I attended in Writers' Festivals, in a writing class I took where every author taught was white. It also made me pay attention to the reading selections I was choosing for my own students, who—coincidentally this year—were mostly of colour. I found myself seeking new essays to teach, new essayists to introduce to myself and to my students.

As far as reading itself, my year of reading writers of colour was just like any year. I read books I loved and books I didn't. Books right up my alley and books outside my comfort zone. Contemporary and classic. In Hebrew and in English. Fiction, nonfiction and poetry. I felt moved, engrossed, captivated, disturbed, heartbroken. Reading more diversely did not feel like a chore, but a privilege. If I felt limited by anything it was time. I hadn't read half of the books I had planned on reading at the beginning of the year. (You can check out the ones I read on GoodReads.)

But it was also very different than other years, because (like I said in my CWILA interview) there is power in numbers, and there is power in immersion. In reading only books by writers of colour, books largely depicting characters of colour, I engaged on a daily basis with diverse voices and perspectives outside the dominant culture's frame of reference, lived with their stories of marginalization, displacement and immigration, contemplated their profound explorations of race, identity, belonging and language. And as time passed and the books piled up, my absorption—my "sustained attention"—deepened. I was not just a weekend visitor; I was moving in.

Lilith Marcus in her thoughtful essay says her year of reading only women altered the way she looked at the world. I have always been highly aware of race; it's hard not to be when you are not white. But as the year went on, I was becoming mindful of others' experiences of race. Reading widely complicated my ideas of race and identity in Canada, in Israel, and in the world, pushed against the frames of the "single story," which is how Author Chimamanda Ngozi Adichie, in her 2009 TED talk, refers to the common narrative we associate with certain cultures. The world around me cracked open, exploded, and expanded while at the same time, felt smaller, more intimate, familiar. I was not alone. The little Yemeni girl who grew up not seeing herself in the books she read had found literary camaraderie at last. And not just because I discovered works by (two!) Yemeni Israeli women for the first time in my life (Yes, you read that right. First time. EVER. More on that in a follow-up post) but because I saw my experiences—as an immigrant, a person of colour, a minority, an outsider—reflected in many of the books I read. In a poetry book by a young Yemeni Israeli writer (Black on Black by Adi Keissar) and in a book of lyric prose by a young Vietnamese Canadian writer (Ru by Kim Thuy). In a novel about a Nigerian woman discovering race in United States (Americanah by Chimamanda Ngozi Adichie), and in a book of essays by a Native Canadian writer (The Truth About Stories, by Thomas King). In a book about a young Arab man's blurring identities within Israeli Jewish society (To Jaffa by Ayman Sikseck), and in a memoir by an Afro-Canadian woman growing up in a predominantly white Ontario suburb (The Stone Thrower by Jael Ealey Richardson).

And it was humbling, and empowering, and thrilling, and totally fucking wonderful.

And this, really, is the point. In her TED talk Adichie said she did not think "that people like me could exist in literature." Dionne Brand once spoke about never reading a character like her when she was growing up. The picture books I read to my daughter (in both languages) are filled with fair-skinned characters. Introducing diverse books to kids at a young age could change how children of colour see themselves and their place in the world; it could change how white children see themselves and others. It could change the world.

And this year? No pledge. There are still many books "leftover" that I never got around to read, like Jhumpa Lahiri's The Lowland, Janie Chang's Three Souls, and Andrea Thompson's Over Our Heads. I also have some books I saved for 2015, like Miriam Towes' All my Puny Sorrows, Chelsea Rooney's Pedal, and Angie Abdou's Between (ha! All women!). My plan for 2015 is to continue to read deeply and widely, outside the realm of my experience, outside my comfort zone. I will keep seeking diverse books to read for my toddler. And I will keep writing Mizrahi stories.