I was interviewed several times these past few months. It's been an interesting experience, being on the other end of the recording device.  Especially since for many years I was the one asking the questions.

I started writing for magazines when I was fifteen (which probably had something to do with my poor performance and attendance in school) and continued after my army service. As a teenager, it gave me confidence and direction. It also enriched my life, allowing me to attend events and festivals I could have never afford financially. I was once sent to write about a diving course (which is how I got my diving certificate at seventeen.) Another time I joined a group of cadets at a nautical school as they sailed to Greece (an eventful week that included a violent storm, eight-metre waves, and some innocently romantic nights on deck a-la The Love Boat with the hottest, sweetest cadet in school).

After the army, as my journalism career flourished, my prose writing began to suffer. It turned out I just couldn't do both. I lived up north in a little kibbutz with my first boyfriend and a furry dog and spent my days hitchhiking and travelling all over the Galilee looking for stories, which were abundant. Once a week I travelled back to Tel Aviv to meet with my editors. I loved my job: I made good money; I met interesting people. But I was no longer writing fiction. I had deadlines looming; I had bills to pay. There was no time, no energy left.

I stopped being a journalist when I moved to Canada. Unfortunately, journalism proved to be a non-transferrable skill for me. At the time, my English simply wasn't good enough to sustain a journalism career. By the time I stopped I had more than a 1000 articles published in magazines in Israel. In Canada, I became a waitress, and a damn good one. I did that for ten years (it took a few years before I started writing prose again and a few more before I started publishing.)

Every now and then I think about writing to magazines again. It's something many fiction writers dabble in, and I do miss it sometimes. I have no shortage of topics: I've just spent the last three months in Israel. Endless material. On one hand, I'm too scared to risk my writing practice now that I re-found it. On the other hand, isn't  the best way to deal with fear is to jump right into it?

In the meantime, I practice being an interviewee. So far, it's been a positive experience. I was recently interviewed to the Guelph Alumni pa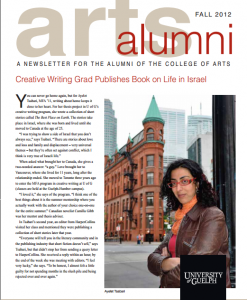 per. Also, a lovely young student from St. Lawrence University interviewed me for her Ethnic Women Writers course. You can read the interview here. You should browse through the interviews with the other writers too; it is an interesting and inspiring mix of writers I am honoured to be a part of.