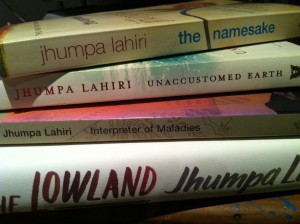 I went to see Jhumpa Lahiri on Sunday at a free event put up by The Toronto Library. I've been a Lahiri fan since I read her first book, The Interpreter of Maladies. It was one of the first books I read in English. I bought it years ago at the Chapters on Robson in Vancouver, and I loved it. I remember thinking that maybe one day I'll get back to writing short fiction. That maybe one day I'll publish a book. I don't know if it had even occurred to me to write in English at that point.

It's not every day that a girl gets to meet her literary hero. The morning before the event I was giddy with excitement. I couldn't decide what to wear, what to say to her when she signed my books. By the time I got to the venue, breathless (traffic, baby, busy morning), almost all the seats were filled. At one point, a woman recognized me from my event at Spur Festival, and commented on how much she enjoyed my reading from The Best Place on Earth, and how well I handled the audience's questions (referring to the memorable "Are you a Zionist" question). I thanked her and then quickly dropped the not-so-well-constructed author persona and babbled on like a star-struck groupie about how I can't believe I was about to see Lahiri read.

When Lahiri took the stage I was surprised by how lanky and slim she was. In her pictures she's beautiful in an almost ethereal way. In reality she was still beautiful, but also a little awkward and shy, which I found endearing. Her reading from The Lowland was mesmerizing. She mostly spoke about issues of identity and home, which is one of the many reasons I love her as a writer. She's obsessed with the same themes I'm obsessed with. She did, however, say that she felt ready to move on, to explore new themes. She didn't know where she was heading, but she knew she was done. I can't wait to read what she tackles next.

I stomped over some audience members on my way over to the book signing table and managed to be fifth in a very long lineup. (In my defense, I needed to head back home and feed my baby). The line moved fast: assistants took your book, opened it to the right page, spelled your name on post-it note, and then passed it on to Lahiri to sign. When it was my turn I presented her with a stack of her books, which she signed graciously. Up close, she appeared exhausted; she had mentioned on stage that she was on a quick stopover in Toronto and had just landed from London. I only had a minute. I may have confessed to being a huge fan. I may have told her that she was a great influence on me while writing The Best Place on Earth. I may have also slipped her a copy of the book (which she possibly left in her hotel room that night for the maid to find. I can't imagine how many people have tried that before me). She glanced at the book. She looked up and studied me for a moment. She smiled. She thanked me. The whole thing took about thirty seconds. It was magic.