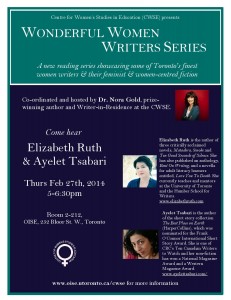 I'm reading at the Wonderful Women Writers Series on February 27th, at 5:00pm with Elizabeth Ruth. The event is sponsored by the Centre for Women's Studies in Education at OISE/University of Toronto and will be hosted by their current writer-in-residence, Dr. Nora Gold. The centre is (from their website) "committed to promoting, supporting, and enriching feminist work at OISE and UofT; and connecting scholarship, education, and activism through constructive and critical dialogues with feminist communities locally, nationally, and globally." So it's a great honour to be be invited to read at this series and to be paired with the lovely Elizabeth Ruth.
I'm also thrilled to be in an event hosted by Dr. Nora Gold. I met Nora last year at my event at Spur Festival and we clicked instantly. We since met for coffee and have been in touch via email. She is an award-winning writer whose novel,  Fields of Exile, will be coming out in May 2014 and I can't wait to read it. She is also the founder and editor of JewishFiction.net, an online literary journal dedicated to Jewish fiction. I'm really looking forward to a wonderful evening with some wonderful women writers!
Here's a link to the Facebook event with more details.