I got my copy of Slice Me Some Truth from Wolsak and Wynn in the mail today and it's a big, fat, gorgeous book. I'm so honoured to be in it. I'm even more honoured to be included in their fall launch! It's going to take place this Thursday, September 22nd, 2011 at Ben McNally Books, 366 Bay Street, Toronto. Barry Dempster and David Groulx read from their new books of poetry, Dying a Little and a Difficult Beauty, respectively, and Susan Glickman and I will read from Slice Me Some Truth. I'll be reading from You and What Army, which is one of the first stories I wrote in English and the first one I published in a literary magazine (it won Event's Creative Non-Fiction contest in 2007). It's weird to be reading something I had written five years ago… But I still like it and am proud of how far it went.

A little bit about Slic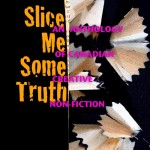 e Me Some Truth: Slice Me Some Truth, a ground-breaking anthology of Canadian creative nonfiction, was released in August by Toronto publisher Wolsak and Wynn. The book features the work of 36 writers. Four years in the making, editors Luanne Armstrong and Zoë Landale received over five hundred submissions. As writers and teachers of creative nonfiction, Armstrong and Landale felt frustrated by not having a broadly-based Canadian book in the genre, so they set out to create one themselves.