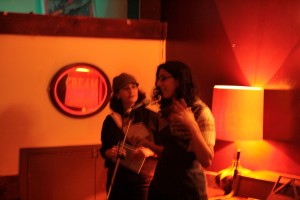 Open Book Toronto recently published an article about Speakeasy, the reading series Eufemia and I founded and host, calling it "A chattery, fist-pounding, pint-guzzling good time." The lovely piece was written by Stacey Madden, who graduated from the program last year. Here's an excerpt:

"There's a new reading series on the scene — Speakeasy, brought to you by Ayelet Tsabari and Eufemia Fantetti of the Creative Writing MFA program at the University of Guelph.

Hosted by the Magpie Tavern at 831 Dundas Street West in Toronto, Speakeasy is a monthly event in which MFA students, instructors and alumni alike can showcase their work. It's a hot place for agents, editors, publishers and all manner of language aficionados to get a healthy dose of literary talent of both the established and up-and-coming variety.

Some of the writers who have read at Speakeasy include Catherine Bush, Russell Smith, Michael Winter, Meaghan Strimas, Paul Vermeersch and Nancy Jo Cullen, along with numerous other students and graduates of the program. I recently spoke with Ayelet and Eufemia about the series, its inception and where it can go from here."

Read the entire article here.