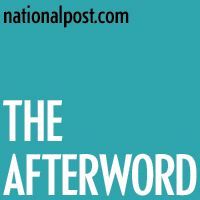 I was the guest editor for The National Post's Afterword this week, which meant that I got to write four posts for their blog. I'm a big fan of The Afterword so it was especially exciting for me. I enjoyed writing the essays and reading the comments about them on Twitter. People have been so kind and supportive – I am humbled!

Here are the links to all four posts:
What Nobody Tells You

– in which I describe the emotional rollercoaster publishing my book has been. It's funny, because at my launch, Jane, my editor at

HarperCollins

, said that she read my description of our first meeting and thought: What is she talking about? Apparently, I seemed calm and composed to her. "In fact, I was a little intimidated!" she said. Turns out I underestimated how good I am at putting on a cool façade and hiding the fact that I'm a total mess. That's kind of reassuring.

Torn Between Two Lovers

– in which I talk of my journey into writing in English, my second language.

What Kind of Jew Are You, Anyway?

– in which I write about my Yemeni heritage and Mizrahi identity and the reason I chose to feature Mizrahi characters in The Best Place on Earth.

How to Lose Friends and Alienate Readers

– in which I speak about my initial reluctance to write about Israel and politics, and the responses I received once I decided to take the plunge.
I also wrote a guest blog post for 49th Shelf this week, On Writing True Stories, where I discuss the line between fiction and nonfiction and my experience writing in both genres.