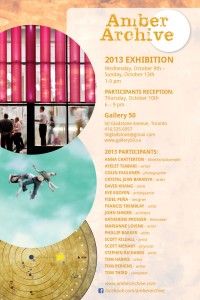 I was invited to take part in a unique project this year. The Amber Archives is an annual participatory art project operated by artist John Paul Robinson. Artists of every discipline submit works to be included in the archive, which John then reproduces on ceramic disks encased in pine resin and sealed in Amber Time Capsules. Yes, you heard right. Time capsules. He calls it the Amber Archives, because it imitates the process by which tree resin is fossilized into amber. As written on the website, "Once the Amber Time Capsules are sealed they are placed in a secret geological location conducive to the process of fossilization, leaving their fate to geology and time."

I cannot begin to count the ways in which I love this idea.

So, this year I am one of the artists lucky enough to participate. I chose an excerpt from the title story in The Best Place on Earth (which I had to format to fit onto a 6″ diameter ceramic disk. That was interesting). Artists include my dear friend, the talented playwright and librettist Anna Chatterton, and other musicians, architects, and filmmakers.

The Amber Archive Exhibition will be displayed at Gallery 50, 50 Gladstone Ave, Toronto, from October 9th to October 13th, with the Participants Reception on Oct. 10th 6-9pm. Both Anna I will be there!