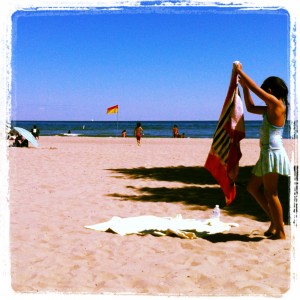 I love summer. It is my favourite season. In my early twenties I chased sunshine and managed to live in perpetual summer for four years. I spent much of that time on beaches, dressed in sarongs and bikini tops, shells braided into my hair, swinging on hammocks and sleeping in huts on the Indian Ocean, the Arabian Sea, the Red Sea, the Med. I arrived in Vancouver at the end of this four-year stretch, on the first day of summer of all days. I brought with me a suitcase overflowing with tie-dye tank tops, flimsy halter tops, and summer dresses (clearly I was delusional), and a tan so deep that I had fooled myself into believing it was my natural skin colour and was surprised by my paleness a few months later. That was the end of my endless summer. I didn't give up my love of beaches: I still travelled to warmer places when I could afford it, but I also experienced Canadian winters, and falls, and springs. I saw seasons changing, leaves turning red and yellow. Trees stripped naked. Lakes freezing. Flowers blooming. I became Canadian.

It is always with mixed feelings that I welcome fall. On one hand, it marks the end of bare feet, lazing on porches, and swimming outdoors, and is a prelude to grey skies, slushy sidewalks, parkas and Sorrels. On the other hand, fall in Toronto is delicately beautiful, romantic even. Despite the potential for melancholy, it feels festive, partially because it is the start of the Jewish New Year, a time for new beginnings and New Year's resolutions, and partially because it is the season of literary festivals, which, for a book geek like me is the definition of a good time (or at least it's one definition. Hanging out on beaches all day long is another). I LOVE going to literary events. I adore hearing authors read and talk about their work. I find it inspiring and enlightening and stimulating and entertaining. It is also a chance to participate and expand my literary community. And buy new books. Obviously. There are always more books.

This year fall feels especially festive and exciting because I get to travel with The Best Place on Earth and be one of those authors. How awesome is that?

So here is where you can see me this fall: talking about the book, reading from the book, signing the book, or hosting literary events with other fabulous writers (where I promise to shut up about the book).
September
September 5, 2013, 7:00pm, 'Stranger than Fiction Cabaret'

I am hosting an evening of creative nonfiction, introducing new work by my wonderful students at the University of Toronto's School of Continuing Studies: Katherine Arcus, Elizabeth Brooks, Kathy Elminshawi, Andrew Fruman and Andrew Vowles. And a special treat! Author Eufemia Fantetti —one of the best readers I know—will be our featured reader. It falls on the first day of Rosh Hashanah, clearly an auspicious time!
The Press Club, 850 Dundas Street West, Toronto
September 7, 2013, 2:00PM – 4:00PM, Book signing, Chapters Indigo Yorkdale Mall
I'll be signing books at Chapters Indigo in Yorkdale Mall. Come say hi so I don't get lonely. You can also chat with me and ask me questions.
Yorkdale Mall, 3401 Dufferin Street Unit #29, Toronto
October
October 7, 2013, Reading at The Rowers Pub Reading Series
I am excited to read at this reading series at the lovely Victory Cafe, with Lois Lorimer, John Steffler, and Ian Williams. It's going to be a great evening.
Victory Cafe, 581 Markham St., Mirvish Village, Toronto
October 17-19, Victoria Writers Festival
I am thrilled to be participating at the Victoria Writers Festival this year. I have a soft spot for Victoria, which is where Sean was raised and where his family still lives. We visit it at least once a year and have quite a few friends in the city. I will be participating in two events:
Writing about Family, readings and panel discussion with Dede Crane and Shaena Lambert (what great company!), on Saturday, October 19, 2013, 2:45pm.
And
Rapt, a Saturday night reading with a stellar lineup: Angie Abdou, Annabel Lyon, Saleema Nawaz, Sara Peters and Jay Ruzesky. Hosted by Lee Henderson. I'm so excited! October 19, 2013, 7:30pm
Tickets and schedule will be available for sale on September 5th.
October 22-27, Vancouver International Writers' Festival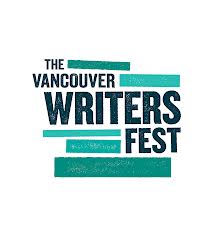 Okay, I have to confess that I am giddy beyond belief about taking part in this festival this year. I lived in Vancouver for eleven years, so it still feels a little bit like home. A few years ago, when I started writing more seriously, I discovered The Writers' Festival and I fell in love. Hard. In 2007, When I studied with The Writer's Studio, we launched our anthology, emerge, at the festival, and I remember how honoured I was to be there, have my name listed in the program. Maybe, one day, I thought, I'd get to do this again, this time promoting my own book. In the following years I became a 'friend of the festival,' signed up for their (highly recommended) weekly newsletter. One year, Eufemia Fantetti and I bought tickets to so many events that by the end of the festival we couldn't even talk to each other because our brains exploded from too many words. Since I moved to Toronto, I have been wishing every fall that I could afford to fly to Vancouver for the festival.
So when I got the invitation to join the festival this year I screamed. And danced. And hung the invitation on my cork board and glanced at it every now and then to remind myself that dreams do come true.
I'll be doing two events with some incredible writers:
And
Tickets go on sale on Monday, September 9, 2013.
I am hoping to do some other readings while I'm in Vancouver, so more info TBA.
It would also be a great opportunity to get me to come to your book club! So please contact me if you are interested.
November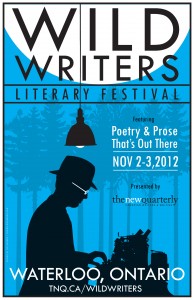 November 8-10, 2013, Wild Writers Festival, Waterloo, ON
I was invited by The New Quarterly, one of my favourite literary magazines, to participate in the Wild Writers festival in Waterloo. I love what the festival has posted on their homepage,
"Here's to the wild ones—the unbridled lovers of the written word, embarking on a journey of discovery and experimentation.
Here's to the fearless readers and writers who open up new worlds. Who revel in a well-turned phrase and a well-worn page.
Here's to the wild ones. Confronting convention and dismissing pretension, they bravely explore how words can transform and transcend our lives."
Isn't it lovely?
Details will be posted soon, but I do know that my pals Nancy Jo Cullen, Elisabeth de Mariaffi, George Murray, Catherine Bush, and Leesa Dean, are going to be there too (check out the list of participating writers here). Party in Waterloo!
November 13, 2013, 7:00PM, The Eh List Author Series, with Lily Poritz Miller
Joseph Romain, the programmer for the Eh List, kindly wrote about The Best Place on Earth on The Eh list blog. He said:
"If you read widely enough, every once in a while, you might come across a surprising new writer. If you are the programmer for The eh List, you just might get to bring that new writer to visit a library. Ayelet Tsabari is that surprising new writer for me. If you only read one new writer this season, you might want to make it Ayelet Tsabari."
I will be appearing alongside Lili Poritz Miller, author of The Newcomers. We will be interviewing each other about our books and our lives, in what promises to be a candid and engaging event.
Barbara Frum Branch, Toronto Public Library, 20 Covington Road, Toronto, ON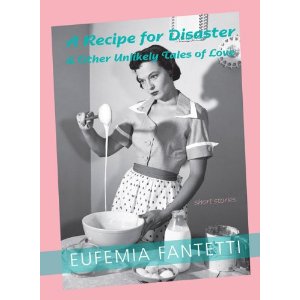 November 21, 2013, Book Launch, A Recipe for Disaster & Other Unlikely Tales of Love

Back in March, I was fortunate to have Eufemia Fantetti hosting The Best Place on Earth's Book launch. So it only makes sense that now that her book, A Recipe for Disaster & Other Unlikely Tales of Love, is coming out (you can pre-order it on Amazon, and you should. Because it's great and funny as hell) I will host hers. I can only hope I do as great a job as she did at mine! Extra bonus: readings by the lovely and talented Becky Blake (winner of the CBC Short Story Prize this year), and Kathy Friedman (a finalist for the Bronwen Wallace award). Damn, I have awesome friends.
No One Writes to the Colonel, 460 College St. Toronto, ON
More events still to come! Check out my Events page.
And Shana Tova!