I suck. I went to the Book Lover's Ball and took no photos. I was so dazzled by the glamorous ball gowns, the snazzy VIP lounge (which Tanis Rideout and I snuck into), the dancers on stage in their flimsy outfits, and my awesome table of Toronto Public Library's employees, that I forgot to take photos. To remedy my mistake, here's a link to a blog post by Not My Typewriter (who is clearly a better blogger than I am) with some photos, and another link to Open Book Toronto, with some red carpet photos.

What else can I tell you about the ball, which raises funds for the Toronto Public Library's foundation? I managed to stay in heels for the entire night, not having to switch to flats (which I brought with me, just in case). It turns out most authors feel like a fraud when they put on ball gowns and suits and are asked to be charming and mingle (not just me). Vincent Lam is the nicest man, and he has worn his lucky suit to every important event in his life (men are so lucky this way): his wedding, the Giller, and every Book Lover's Ball he's ever attended. Lawrence Hill and Miranda Hill are as dashing and lovely as they seem in photos. Kamal Al-Solaylee, who wrote the memoir Intolerable, and whom I've been wanting to meet for a long time, was as excited as I was to hear that we are both Yemenis.

But mostly, I hung out with Tanis Rideout, Grace O'Connell (my MFA buddies), my lovely editor Jane Warren, and of course my table, which was easily the best table in the house. When my book appeared on the large screen, they cheered and hollered. Then, other tables were compelled to do the same. "See? We started a trend," they said.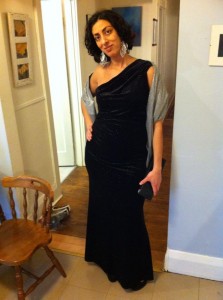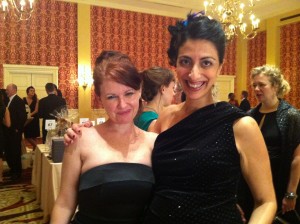 I left before midnight, before my coach could turn into a pumpkin. It was fun while it lasted!