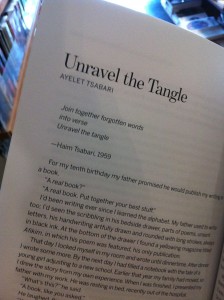 My piece, "Unravel the Tangle," which I wrote about my father and his poetry, was published in Room Magazine this month. After the essay about my mom ("Yemeni Soup and Other Recipes," published in Grain) garnered so much attention last month, I was pleased to see the tribute to my father finally in print. I had wanted to write about my father for years, but wasn't sure how. It felt too big, too raw, too difficult, even thirty years after his death.

The title of the piece, Unravel the Tangle, is a line from one of my father's poems. My father wrote poetry for one youthful, feverish year. It was 1959 and he was twenty years old, a skinny Yemeni boy from a poor neighbourhood, fresh off his service in the Signal Corps. He worked all day in menial jobs and in the evenings took the bus to Tel Aviv, where he studied to be a lawyer. Two years later he was married to my mother; a year later he became a dad for the first time. Life got in the way. His poetry aspirations were forgotten, abandoned for more practical pursuits. But he never stopped writing. He wrote long, funny, detailed letters to friends and family. His bedside drawer was full of scribbling.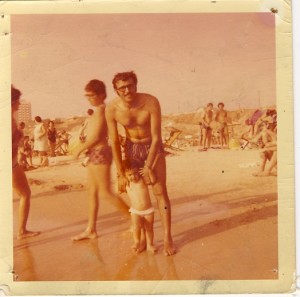 After his death his friends collected the poems—a poetic journal of his youth—into a book. A couple of years ago I decided to reread his book, translate some of his poetry and incorporate it into an essay about him. I don't know how good a job I did translating—I'm not a poet nor a translator—but it felt kind of remarkable, to be able to give his poems a new life in a new language more than fifty years later.
*************
I have an essay on writing published in Event's Notes on Writing issue this month. I've been a follower of this annual issue for years (I have a stack of them at home which I often revisit) and always fantasized about contributing to it one day. The essay, "How to Make a Cream Sauce," tells my journey through learning and unlearning the 'rules' of writing. It's something I feel quite passionate about and I'm grateful to the folks at Event for letting me rant. There are other great essays in this issue, by writers Anne Fleming, Sachiko Murakami, Billeh Nickerson and Chris Hutchinson.
Finally, Prism Magazine published a lovely review of The Best Place on Earth, where they call it "intricate and unrelentingly human." Thank you, Prism!