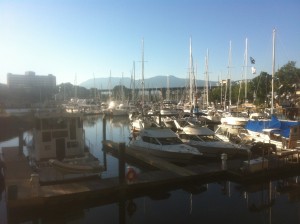 I haven't been blogging. I have good reasons and bad reasons. The good reason is that I've spent the summer writing up a storm, working on my memoir. I was fortunate enough to receive a grant that made it possible: I rented a shared writing space outside my home, paid someone to help with childcare, and three times a week I go to my little office and write write write. It feels wonderful. On days when I don't write, we enjoy summer in the city, spending time in parks and pools and patios. We also spent beautiful two weeks on the west coast, swimming in the ocean and hanging out with friends and family.
The bad reason for my non-blogging is that between writing my memoir and swimming in seas, I've been consumed by the war that's been raging in Israel and Palestine. I found it difficult to blog about it, or even write Facebook statuses about it. At the same time, I struggled to blog about things that are not related to the war. I know you shouldn't compare, but so much of everything else seemed small in comparison, insignificant. Even things I usually care about. I felt overwhelmed by the information and misinformation on social media (it's a full time job trying to differentiate between the two!) and struggled to balance my need to be informed with my need to be sane. As if it wasn't enough that the news was horribly depressing, the hatred people spewed on some threads (Why? Why do I read comments?) was sickening and frightening. Other times I got annoyed by things people posted when it was clear they had no idea what they are talking about. It was all-consuming; I couldn't get away. Eventually, Sean took matters into his own hands and deleted the Facebook app from my iphone. Now I get my information from news sources I trust in a more controlled way.
People have been telling me to write about it since this war started. Write about it. You're a writer and you're Israeli and you have opinions. But when I sat in front if the computer to write I was paralyzed. Write what specifically? Where do I start? How do I make sense of it? What if I make people angry? And why do I care? And then I felt chicken shit about not writing about it, for not engaging politically. When I tried to comment on other people's posts it came out wrong. When I shared my feelings (because surely I can do that? My feelings are my feelings. Not opinions to be disputed and argued about) people ended up arguing in the comment thread.  I know I annoy people with my Gemini-esque way of seeing both sides, disappoint people who want me to make a clear stand that is more than simply pro-peace. But this is all I can do right now.
And still, after everything that happened, and after thinking to myself, Thank god I live in Canada, I actually still wish some days I lived in Israel, still miss it all the time, still imagine that maybe one day I could move back. I am not over Israel, probably never will be (which is why I will always write about it). But at the same time, these last few weeks taught me to appreciate Canada more, be grateful for it and for all that it has given me, and to accept that this is home now, regardless of what may happen in the future.
In other (much smaller) news: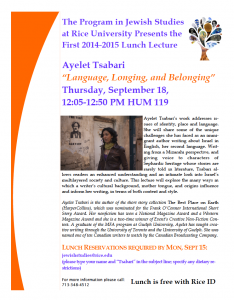 I am heading to Houston on September 17th to give a talk at Rice University, titled Language, Longing and Belonging. (click on the flyer on the left to enlarge). I am thrilled about it. The woman who invited me, Melissa Weininger, wrote a fascinating, thoughtful paper on The Best Place on Earth and Shani Boianjiu's book, The People of Forever Are not Afraid. The essay is titled "Hebrew in English, "as both Boianjiu and I are Israelis writing about Israel in our second language. I will also be doing an event with the Hebrew Speakers Association in Houston on September 18th.
I have two pieces in the New Quarterly's war issue, written before the war started. So I guess I do write about war sometimes. Here's a quote from one of the pieces, "Learning to Stand Still," that seems appropriate for right now:
"War becomes everything and sometimes it feels like it is what life is, always will be, like war is bigger than love, or passion, or hope. Sometimes it's difficult to see myself clearly, to separate my own story from that of my country."
The issue is wonderful. I haven't finished it yet but I did enjoy some of the fiction in it, like a story by Molly Lynch and another by Brent Van Staalduinen and an essay about reporting from Afghanistan by May Jeong.
The New Quarterly asked me to tell them what I've been reading for their blog. (Hint: an Israeli author and a Palestinian poet). They also asked me about my writing space here.
I recently wrote a blog post about home and belonging for the wonderful Gail Anderson-Dargatz's blog. It means a lot to me to be a guest author on Gail's blog, because when I started reading in English in my mid-twenties, Gail's novel, The Cure for Death by Lightening, was one of the first books I read in English. I found it in a bookstore in Pushkar, India, and I absolutely loved it.
I was a reader for CBC Canada Writes Creative Nonfiction contest this year and was asked to contribute a Creative Nonfiction tip to their blog.  The tip speaks about why ordinary stories matter, and why you should tell your story.