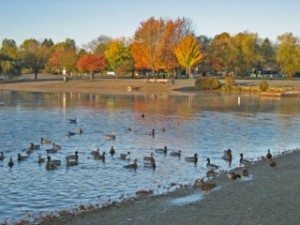 I am running a writing workshop, 'Wish You Were Here: Writing about Place',  in Vancouver this fall.  I am very excited about it. It will take place at the lovely Trout Lake Community Centre (one of my favourite spots in East Vancouver!)
Here's more information from the flyer:
Evoking a profound sense of "being there" in writing is one of the most important elements of prose, and a way of immersing the reader in what John Gardner called "the fictional dream". Mastery of place involves more than just using descriptive words. Vivid setting emerges as much from the character's point of view, actions and voice as it does from imagery, sensory details, metaphor and simile.
Participants will learn new techniques to approach writing about place, and will begin thinking of place as a potential character in their work. Drawing from examples by successful practitioners of the craft, and through guided hands-on exercises, attendees will be able to use setting as the basis for creating dramatic and engaging stories.
This workshop is designed for both fiction and creative nonfiction writers of all levels.
Optional: Send one page (double spaced) of your work by October 30th for feedback. The sample should engage with place in some way. Examples from participants' work may be discussed in class.
When: Saturday, November 2nd, 2013, 9:00am-12:00pm
Where: Trout Lake Community Centre, 3360 Victoria Drive, Vancouver, BC, V5N 4M4
Registration Fee: $70 (payable by cheque or PayPal. To pay by PayPal go here)
Registration Deadline: Please RSVP here by October 30, 2013